One App Is All You Need: Share
The ONLY app that allows you to hire a therapist online, on-demand – instantly, anonymously and at one low, flat fee.
shortest waiting time recorded
latest a session was conducted
Share is Online, On-demand Therapy and more:
Instant confirmation, start now or later - 24x7
Stay anonymous (if you wish)
Built-in tools that makes online counselling feel face-to-face
One flat, low fee regardless of issue, language and group size
Multilingual: English, 中文,Melayu, தமிழ் and more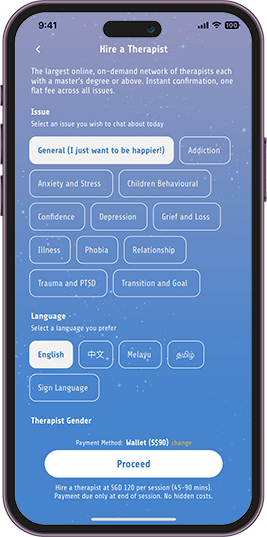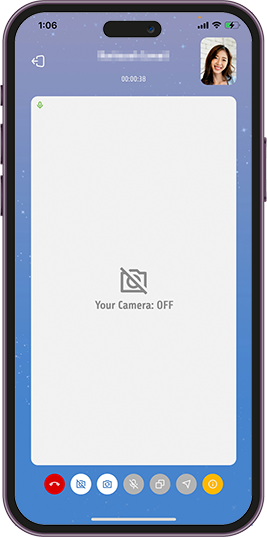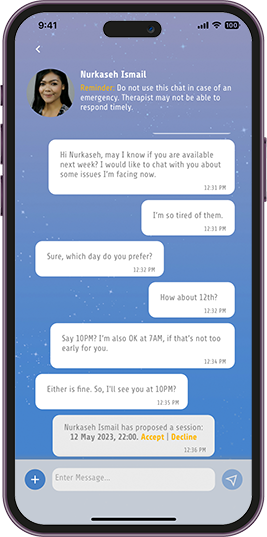 01
Select
Select the issue you wish to discuss
02
Standby
Standby while we connect you with the right therapist, usually within a minute.
03
Start
Start session immediately or later – your choice
No long forms to fill, no weeks-long waiting time to get an appointment
No registration is required to access our app and its free resources
Proprietary, built-in tools that make counselling online feels face-to-face
Hire a trusted therapist in minutes and not days – anonymously if you like
One affordable, flat price regardless of issue and number of participants
Share Is Trusted by Therapists
Shouldn't You?
Who Are Your Therapists (Featured)
Singapore's Largest On-demand Therapist Network Each With A Minimum Master's Degree and/or Registered With A Professional Counselling Body​
What Users Love About The Share App
"Now after receiving such timely help and assistance, I'm even more assured of using this platform and will definitely recommend it to my friends."
"Such a useful and friendly-interface app for individuals who need counselling. ❤️"
"What I like about this app is that I can speak to a Therapist instantly and do not need to wait for an appointment. There is also no pages or form to fill. Easy!"
"(The) Share app is a lifesaver! They are all qualified therapists, I can now get trusted therapy anytime and anywhere."
"I also found the "Draw" and "Chat" functions in the app useful as alternative means for those who can't express themselves well during the counselling session."
"A great lifesaver when I'm feeling depressed with work and kids stress.
I feel much relieved after talking to someone especially an expert whom can really help."
"I love that I get the option to remain anonymous throughout the entire session if I so wish to. I have tried out the Share app and found that it is relatively easy to use and navigate around."
"I was really felt great after my session and boosted up my confidence."
"Thankful to found the Share app recently which is an online, in-app counselling app which available 24/7 on-demand. (It) doesn't let me wait for hours and days for my counselling appointment."
"It is super convenient to use at home, and at a place you're most comfortable in without going out. The app offers instant confirmation of appointment, which means you don't need to wait hours or days."
"...It can feel so depressing especially when I had difficulty falling asleep in the middle of the night. The Share app will be great for struggling mums who just need a listening ear in the wee hours."
"My experience is totally amazing and I'm able to draw something and present it to my counsellor. The app is user-friendly and the layout is colourful.
"My experience with using the (Share) app is like a breeze. The therapist is very friendly and experienced in listening and giving advice. It was really like chatting with a friend."
"I love how convenient it is to connect with a qualified therapist through my mobile phone or tablet."
"Solving Life Challenges is Hard.
Finding the Right Therapist, Shouldn't."